Welcome to the LA MANDIA Hotel ***
The La Mandia Hotel *** is located in the heart of the biggest ski area in the French Pyrenees, in the ski resort La Mongie, part of the Grand Tourmalet.
Ski slopes are accessible right in front of the building.
The hotel is on the Tourmalet road (famous thanks to the Tour de France) and 600 meters from the departure of the cable car to the Pic du Midi.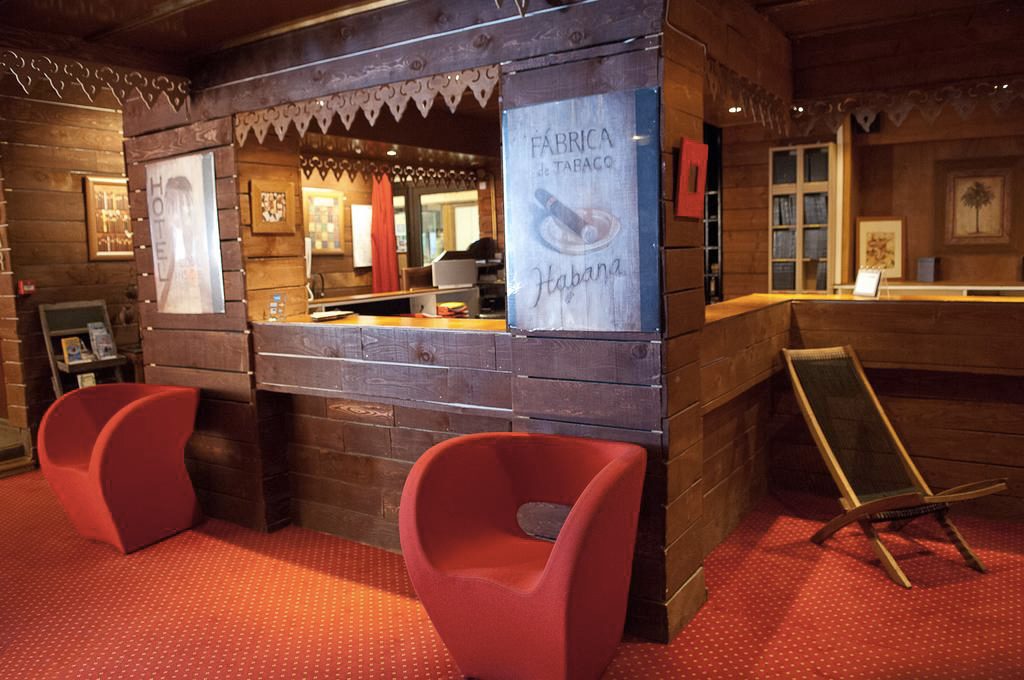 In the building you will find ski rentals and ski tickets and a video arcade as well.
We have a limited number of parking spots so please book it in advance if you want one (there is an additional charge for it).
The hotel is open to groups and business meetings all year around upon reservation.
Pets are welcome in our rooms.
The hotel rooms are not accessible to person with reduced mobility for the moment.
THE ROOMS
The hotel has 48 rooms and offers what you can expect from a 3-star-hotel such as flat screen TVs, wifi, phones, safes, hairdryers, toilets, towels, soaps and body lotions in the rooms.
Arrival: 16:00
Departure: 11:00
On the day of your departure, we propose to keep your luggages while you ski so that you enjoy an extra-day of skiing before leaving La Mongie.
We offer 3 types of rooms:
Rooms with a shower
18 m² / 193 sq ft (1 to 2 people)
Shower room
Double bed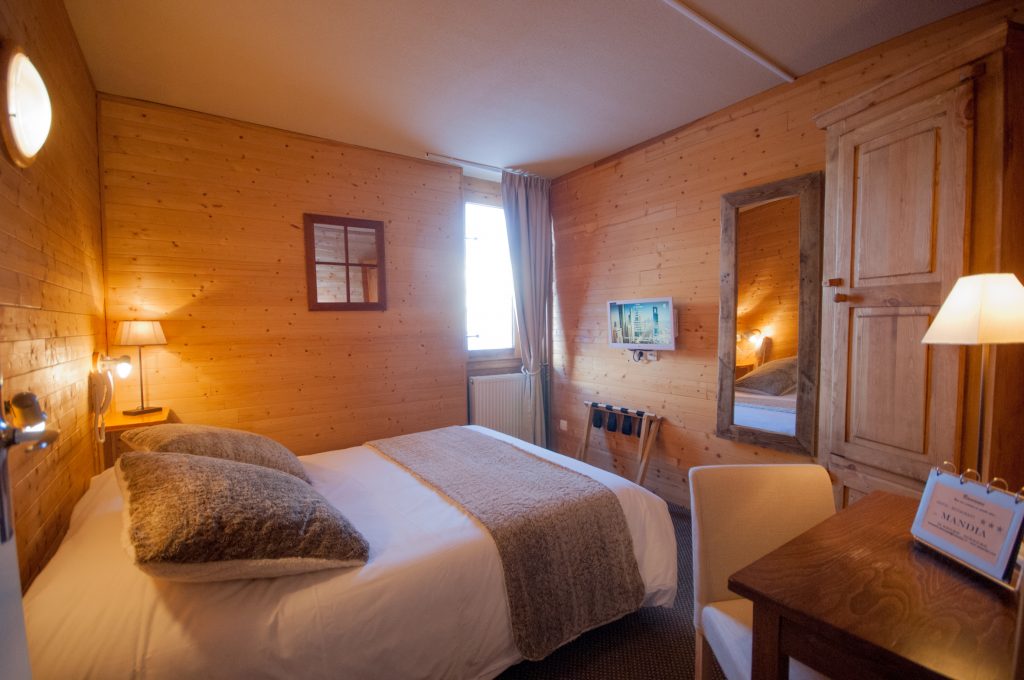 Rooms with a bath and a balcony
22 m² / 236 sq ft (2 to 3 people)
Balcony with a view on the ski slope
Double and single beds or 3 single beds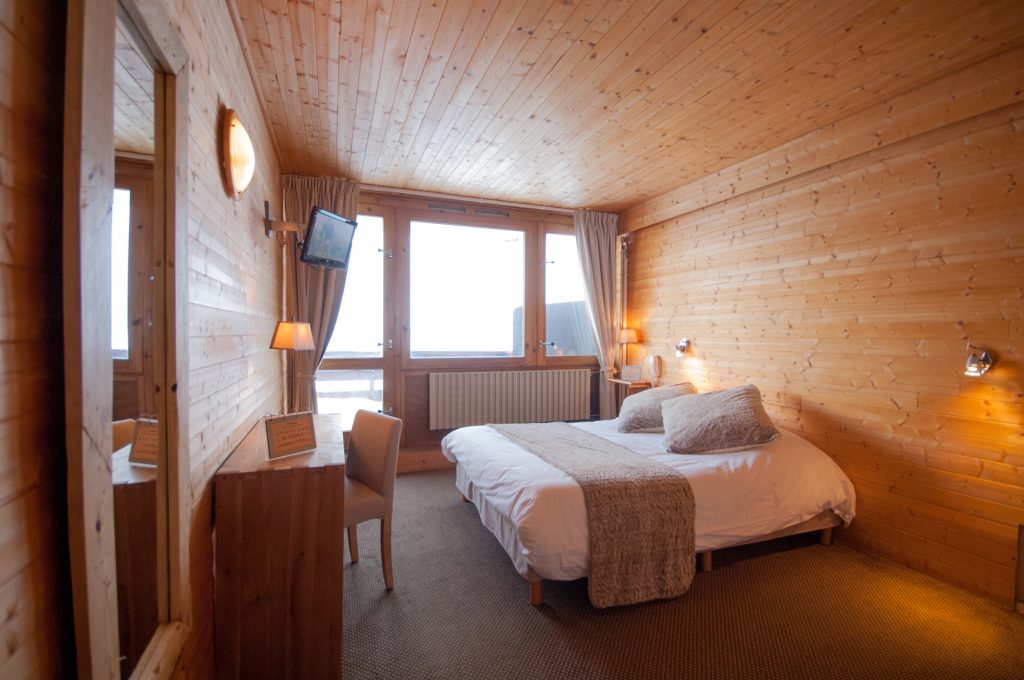 Suites: 2 connected rooms with bathrooms 
40 m² / 430 sq ft (2 to 6 people)
Balconies with a view
Perfect for families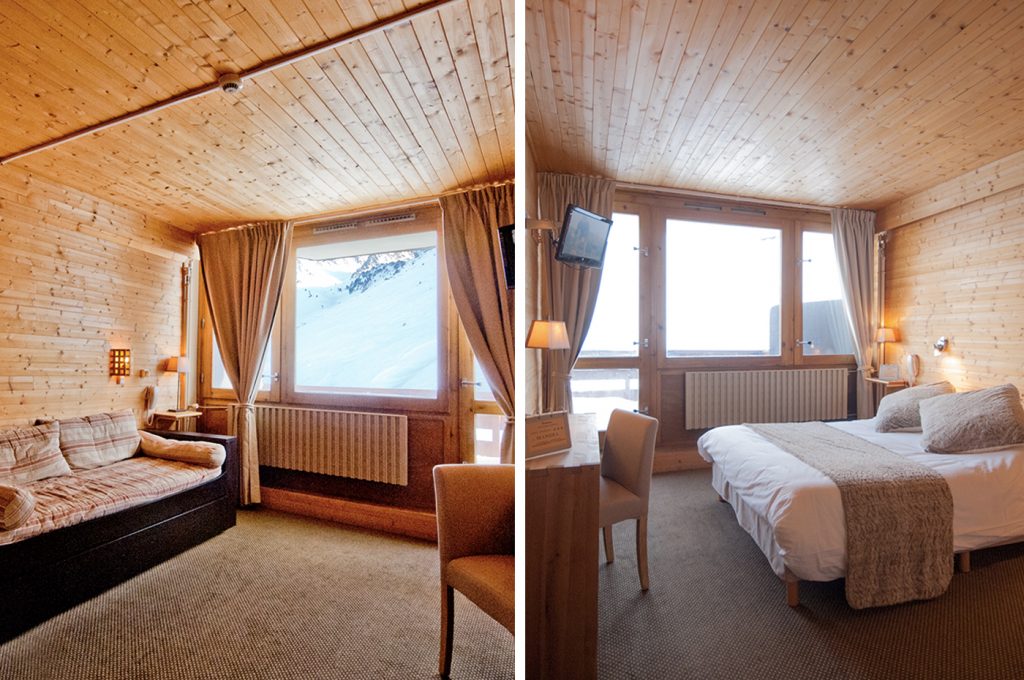 THE RESTAURANT
Our chef proposes a regional cuisine including magret (duck breast), duck confit, a local soup called "garbure" and mountain dishes such as fondue (with cheese or meat) and raclette.
APRES-SKI
Within the hotel
We propose several activities within the hotel to entertain you after your day on the slopes.
A sauna, massages (on demand with an additional fee), a fitness room, boutiques with gourmet food, regional and wellness products, a lounge bar, a TV room and a large choice of movies available in DVDs.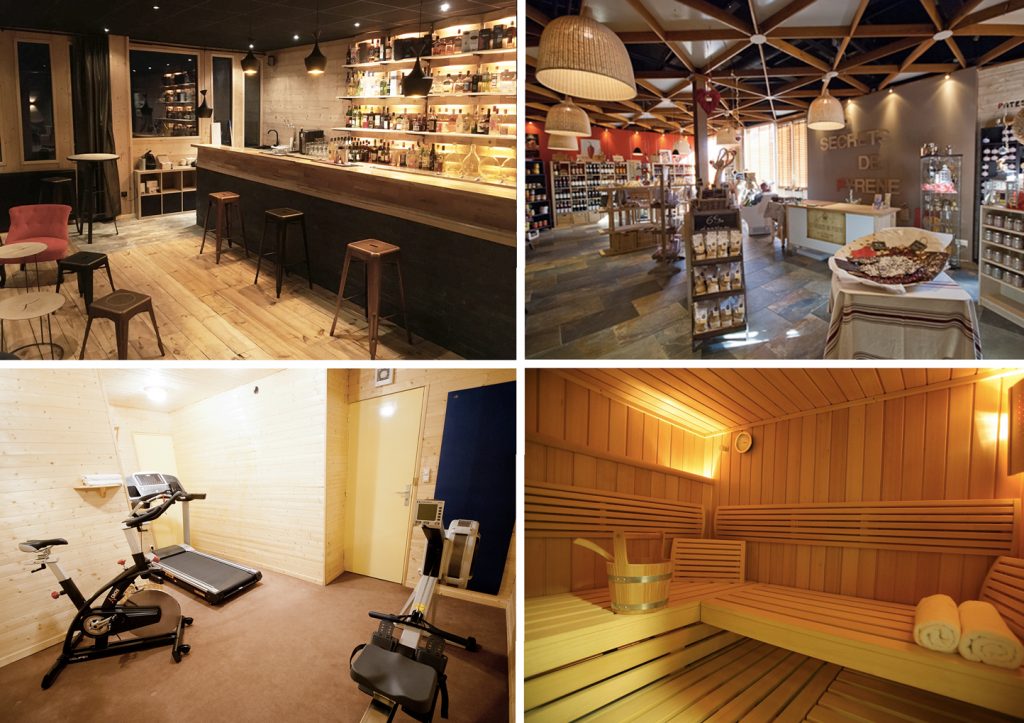 Around the hotel
Perfect for skiers thanks to its position, the hotel is close to a wide range of additional activities.
Ski or snowboard, visit the Pic du Midi, ride with sled dogs, go to Aquensis in Bagneres de Bigorre to enjoy hot natural waters or  climb the Tourmalet by bike as a pro cyclist during the summer.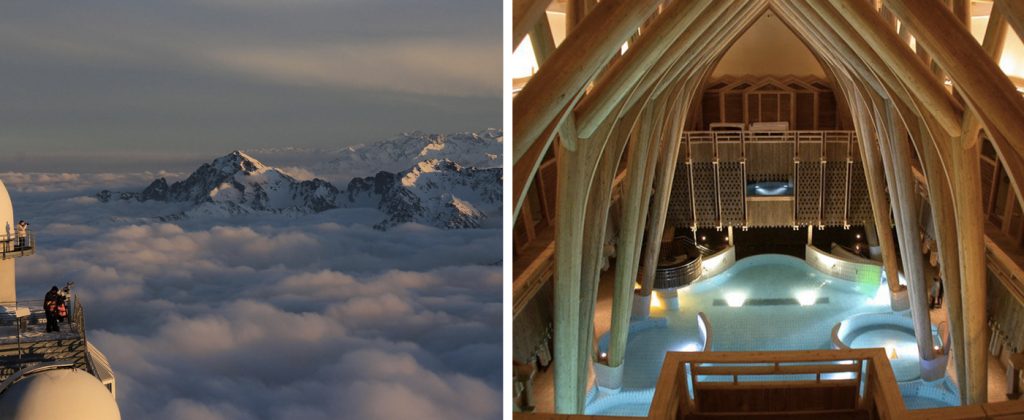 2022/2023 WINTER RATES
Rooms with a shower from 100 to 145€ per night
Rooms with a bath and a balcony from 115 to 200€ per night
"Privilege" rooms from 145 to 200€ per night
Suites from 260 to 400€ per night
Breakfast 15€ per people per day
Half-board rate (breakfast + dinner excluding drinks): 45€ per adult per day and 30€ for children under 11 years old.
Book your stay direct with us and get the best rates.
Open all year round for groups and meetings.
CONTACT US
Address:
Hôtel La Mandia
65200 La Mongie
Phone: +33 (0)5 62 91 96 36
Mail: lamandia.lamongie@wanadoo.fr
Facebook: www.facebook.com/HotelLaMandia
HOW TO GET THERE
By road
Paris (870 km) – Marseille (575 km) – Toulouse (180 km) – Bordeaux (290 km)
From Paris and Bordeaux:
– A10 motorway towards Bordeaux
– Then take the A64, exit 14 towards Tournay
– Next, after the toll head towards Bagnères de Bigorre on the N935, then follow Campan, Sainte-Marie-de-Campan, and La Mongie.
By train
TARBES STATION (45 km)
SNCF coach link from Tarbes via Bagnères de Bigorre (2 per day)
Tel: +33 (0)5 62 95 01 19
By plane
TARBES-LOURDES-PYRÉNÉES AIRPORT (68 km).
Travel information: +33 (0)5 62 32 92 22
Transfers: +33 (0)5 62 94 20 96
And then rent a car or book a cab for instance. It is approximately a 1-hour drive.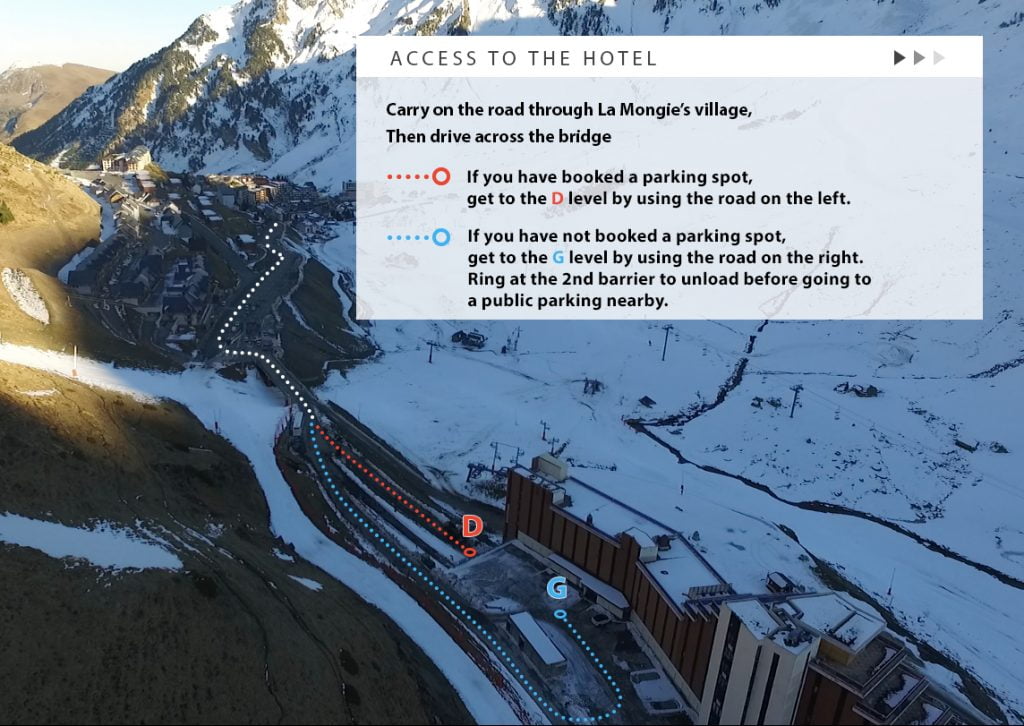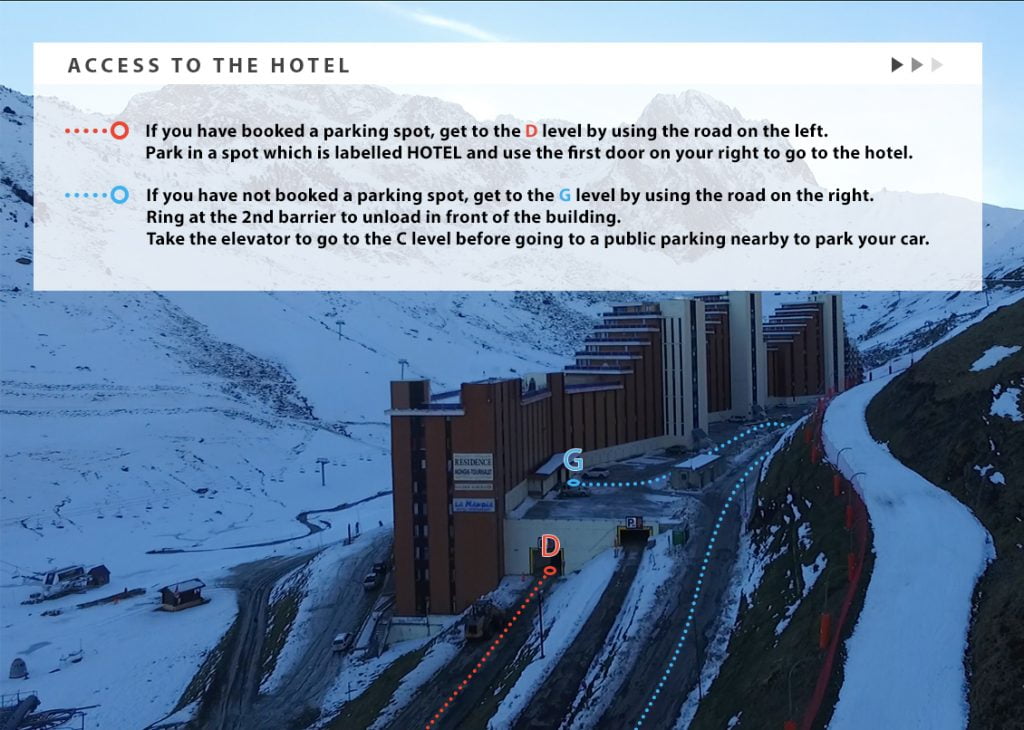 We hope to see you soon at the hotel or on a ski slope.